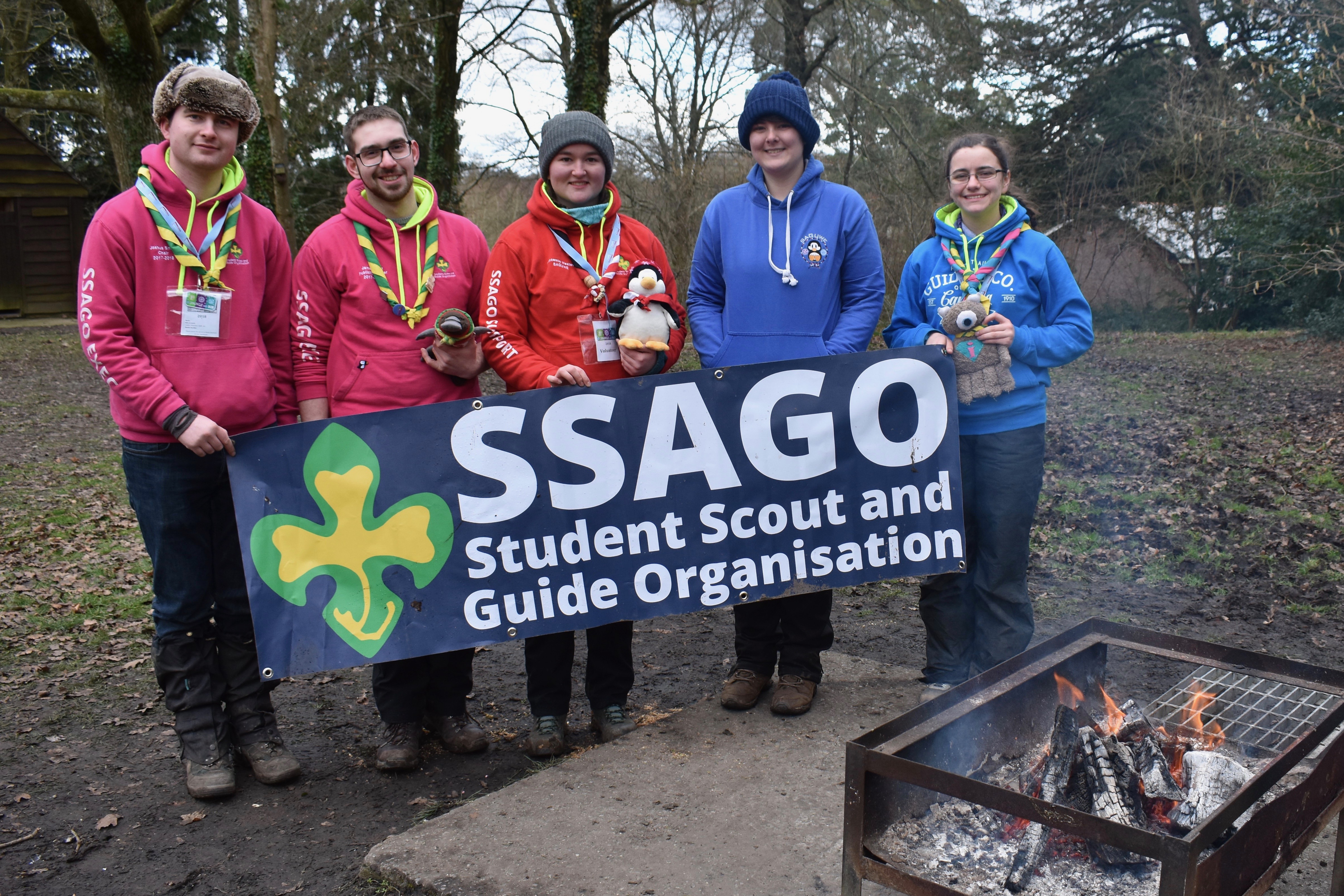 The first weekend in February saw six members of SSAGO from SAGUWE, Southampton and Indie come together to help at Girlguiding's Sparkle and Ice event at Foxlease. After arriving on the Friday night, we pitched our tents in the dark, had a short, cold walk around and headed off to bed ready to light the campfire in the morning.
Saturday morning began with the arrival of fire wood and our supplies for smores and campfire cones. Once the fire was lit, despite the gentle rain, there was just enough time for us to test the supplies and accidentally burn the sugar in a few of our icecream cones before the Guides began to appear. During the day we had a steady stream of girls and leaders seeking marshmallows and the warmth of the fire. There were many trips to the wood store with our trolley.
As the day drew to a close it was time to build the fire up ready for a campfire. As more people arrived and the benches getting further away from the fire, we sang a range of classic campfire songs and learnt some new ones before heading off to watch the fireworks. We then had some time to ourselves around the fire with a jug of hot chocolate from the kitchens and cheese warming on the fire. We all manage to time it perfectly to head to bed in our tents (or hammock inside the hut in one person's case) just before the rain started again.
On Sunday morning, we were able to relight the fire by turning the embers over and plenty of wafting. We had a mixture of new and returning Guides and Leaders who were on the hunt for a sugar fix before heading home. Once the participants had left it was time for us to take down our tents and begin our car/train journeys home, realising just how many marshmallows/smores we had eaten over the weekend.
This was the first time SSAGO Supports has supported Sparkle and Ice and I'm sure we would all enthusiastically return again.