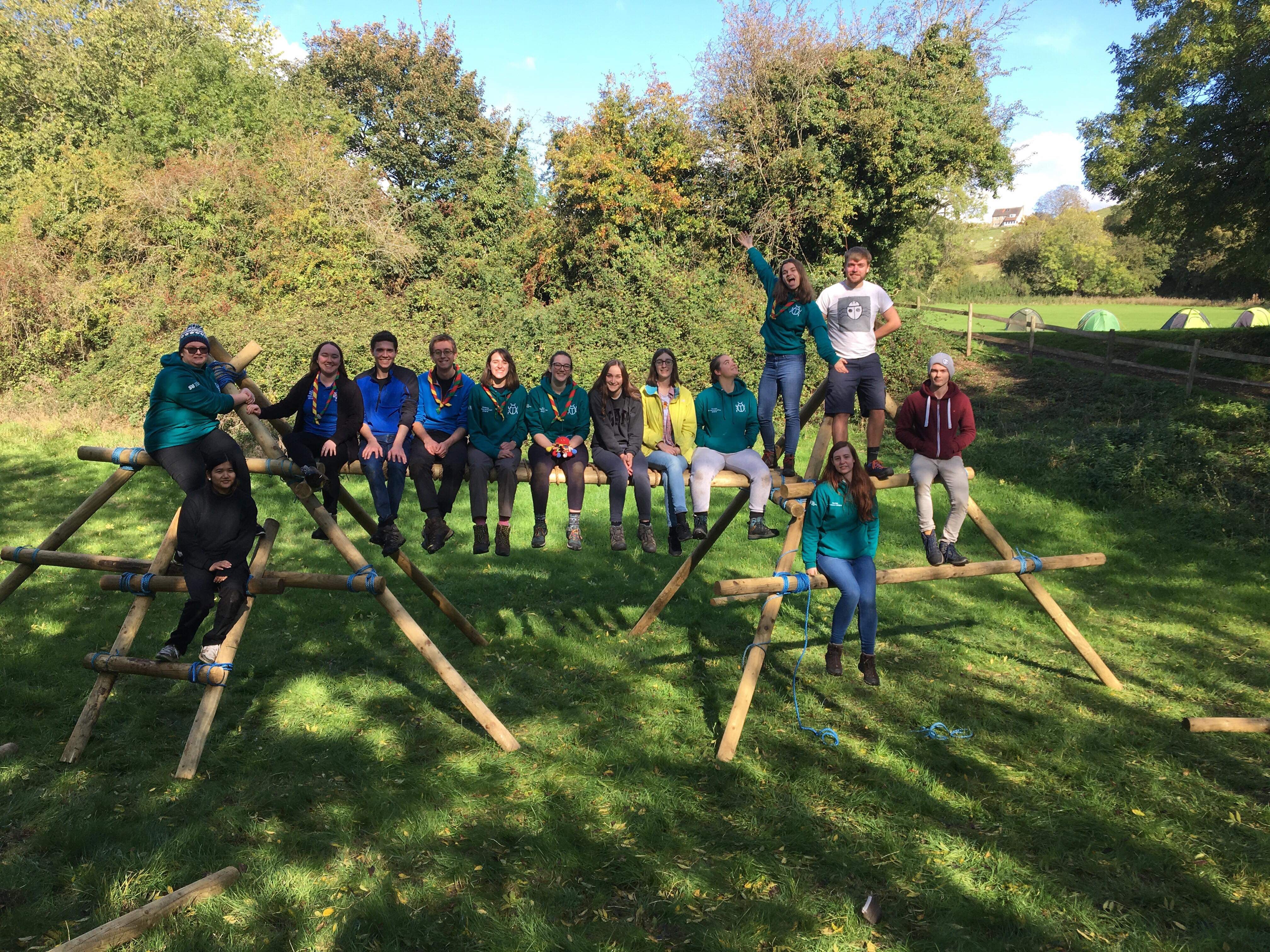 Across the country SSAGO clubs have had Freshers Camps, this article contains a small summary of most of those camps!
Midlands Freshers Camp - Reuben Cone
Keele SSAGO hosted this years Midlands Freshers Camp at Sherratts Wood Scout Campsite on 18th - 20th October. Nottingham, Birmingham, Leicester, DMU and Lincoln took part in The Quest for the Sapphire Squirrel. After finding an old journal in Scruffy Squirrels study, they embarked on a journey that saw them finding hidden tombs, taking part in strange local customs, solving puzzles and ultimately racing to be the winning tomb raiders. After facing a series of three deadly trials - The Path of the Squirrel, The Pit of Snakes and The Spiders Web, Team Dora the Explorer were first to get there hands on the squirrel, and go down in the history books as the discoverers of this ancient relic.
Southampton Freshers Camp - Southampton Archives
Southampton SSAGO saw 24 keen SSAGOers head to Winchester for the weekend of the 18th-20th of October for a weekend of silly games, fire, exploration and most importantly, making new friends for their Southampton SSAGO Freshers' Camp 2019. Based at Winchester Log Cabin Scout Hut, Friday night was about getting to know each other and playing Pictionary Whisper, where each person has a stack of paper and writes a word or phrase on the topmost, passes it to the next person who has to represent that with a picture, who passes it to the next who has to try to work out from the picture what the original word could be.The following day, we headed into Winchester for a Monopoly Run and then headed back for various traditional SSAGO games in the afternoon. On Sunday, we headed to Wolvesey Castle and played sardines within the grounds. After a tiring camp, our last game was sleeping lions,where it was more difficult to end the game than start it, which perhaps wasn't the best game to play when there was a train to catch! Read more here.
Bath Freshers Camp - Brittany Long
We went to Cleeve Hill campsite from the 18th-20th October. We had a huge campfire on Friday night (pictured!) and set up camp. On Saturday morning we did some fire lighting, built a climbing frame out of pioneering poles and played our traditional game of Kubbs. After lunch we headed out on a hike to the legendary and mysterious ha-ha field. As we walked back we got to watch the sun set over Bath, and became shepherds as we narrowly avoided letting a sheep out of its field. On Sunday we did a Monopoly Run around Bath, ending up in Spoons for some celebratory drinks. We'll be offering the Monopoly Run at Roman Rally in February so SSAGO can try it too!
SCOGUI Freshers Camp - Roanna Publicity Officer 19/20
Loughborough University's SSAGO - SCOGUI had their Freshers Camp this year at a little Scout campsite outside of Loughborough. Most years we use the weather to describe the camp, this year was rainy and cold. Our two mascots, Scogui and Boo-boo had many hugs as we played bored game after bored game while consuming a lot of hot drinks (still working on the tea sponsorship
). We shared many hot water bottles during our camp, while learning more about archery and getting close with one another in black hole. We scared some scouts, cubs and beavers on their Halloween Walk with Caspar the 'friendly' ghost and had a lovely time in spoons after a wonderful aftercamp shower! Looking forward to next year SCOGUI.
Northern Freshers Camp - Samir Soars
On the last weekend of October Liverpool SSAGO hosted the Fab Four Northern Freshers camp! SSAGOs from near and far journeyed across the north to a cold and wet 6th Allerton scout hut, to embark on a quest across Liverpool the following day to find members of Sgt Boris' Lonely Hearts SSAGO band and other activities in the city such as the Beatles story, pub crawl, visiting some of the museums or a hike along the beaches of the Wirral. Two of Liverpool brought their dogs along, Milo (chihuahua) and Alfie (springer spaniel), providing much cuteness and entertainment especially when Alfie was giving Cerys a walk along the beach and whose jumper Milo was hiding in at any given time. The nights were long and eventful, especially when someone arrived at 2am from Edinburgh after a 4hr delay in Preston, even the Beatles appeared at some point!
Bangor Freshers Camp - Kate Grimshaw
On 25th - 27th October, Bangor University Guides and Scouts went to Felin Bach Brownie Campsite near Caernarfon for our freshers camp. Even though it rained for most of the weekend we all still had a great time. After getting all our kit out of stores and setting up camp in the rain, we had a lovely hotdog supper and listened to our BUGS playlist (BUGS 19/20 on Spotify;) ). Instead of the hike we planned to do (typical North Welsh weather, putting a spanner in the works), we spent Saturday wandering around Betws-y-coed, visiting as many outdoor shops as possible and riding the miniature train before going to Cotswolds for talks on how to fit a rucksack and how to layer effectively. Once we were back we had a delicious curry tea and a got a fantastic campfire going with some of our favourite after hours songs. The next day we did a lot of onsite activities, including tie-dye neckers, a Halloween themed scavenger hunt, a quiz about the committee, and bread making, then packed up camp and headed home, not forgetting the important post-camp spoons (thanks Aber for some treats!). All in all it was a great weekend!
South Wales Freshers - Isobelle Robson
South Wales Freshers Camp was held from November 1st- November 3rd, at Silver Cross Scout Campsite near Swansea. Members new and old from SUSGS (Swansea), Aberystwyth, and University of South Wales (USW) came together for what was planned to be a fun typical Scout camp, with hikes, campfires, and outdoor activities on the agenda. However, this is Wales in Autumn, so instead we got a full weekend of nearly sideways rain, and a lodge full of pots and pans on the floor. This didn't stop us though, so we just spent the whole weekend making friends with each other, playing games, and generally drinking the night away. (Maybe to much drinking in the case of certain Swansea members, who I won't name, but who will live with the new traditional Mask of Shame until the next camp for his efforts.) Overall, we managed to make the best of the bad weather, and although we didn't manage to hold any campfires, a 17 person game of Werewolf was just as loud and exciting anyway.
South West SSAGO - Ethan Rose
From the 1st to 3rd November, Portsmouth SSAGO invited SSAGO clubs from all around the South West, to take on their challenge of collecting crystals, defeating the dome, and winning the Crystal Maze! Throughout Saturday morning, the contestants took on a selection of challenges, spread between the; Azetc, Medieval, Industrial and Future zones, earning and collecting crystals as they went. At lunch it was revealed that 'Team Able' had been successful in earning the most crystals, and were awarded a chocolatey prize, however there was still more from Crystal Maze to come! The afternoon saw participants getting involved in their chosen activities, which consisted of a mix between the calm and warm Board Game Cafe and D-Day Museum, contrasted with those mad enough to take on the storm headfirst in our Coastal Walk. In the evening, dinner proved popular, especially the sticky toffee pudding for which the entire tray was removed from the kitchen, ensuring everyone had seconds (or thirds, or fourths…) and absolutely none was left at the end! After dinner, everyone was entertained by our ten rounds long, super quiz, which included rounds on; Films, US Presidents and SSAGO, and even featured one round where a member of the team had to win points in a wide game, followed by another campfire before bed. Sunday morning featured an impressive full English breakfast, with so much food that a mandatory 'four hashbrown minimum' had to be put in place. Following breakfast the contestants had their final opportunity to get their team ahead in the last task of the Crystal Maze: The Dome! Each team has an amount of time, based on the number of Crystals that they'd earnt the day before, to enter the dome, and collect as many gold pieces of paper as possible. In the absence of fans, those not in the dome gladly took on the task of shaking the dome(/tent), and taking it down around the participants inside! In the end, it was another win for 'Team Able', and at the closing ceremony, they were given the honour of selecting Exeter as the host of next years' South West Freshers' Camp! Read more here.
Lancaster Freshers Camp - Rhys Peploe
Lancaster took the short trip to Fylde District Scout Campsite in Blackpool for our fresher's camp. With a bunch of eager freshers and seniors we started the LSSAGO Olympics - over the weekend four teams would battle it out in frisbee, javelin, capture the flag and archery (as well as some bonus points along the way!).Two teams shared victory with equal points, notable highlights include eating wraps with salad, ham, jam, whipped cream and cheese in it, as well as multiple attempts to try and let some rabbits (some more successful than others).Overall, a fantastic weekend full of new friendships and memories - I can't wait to see what this year bring. Roll on Rally!