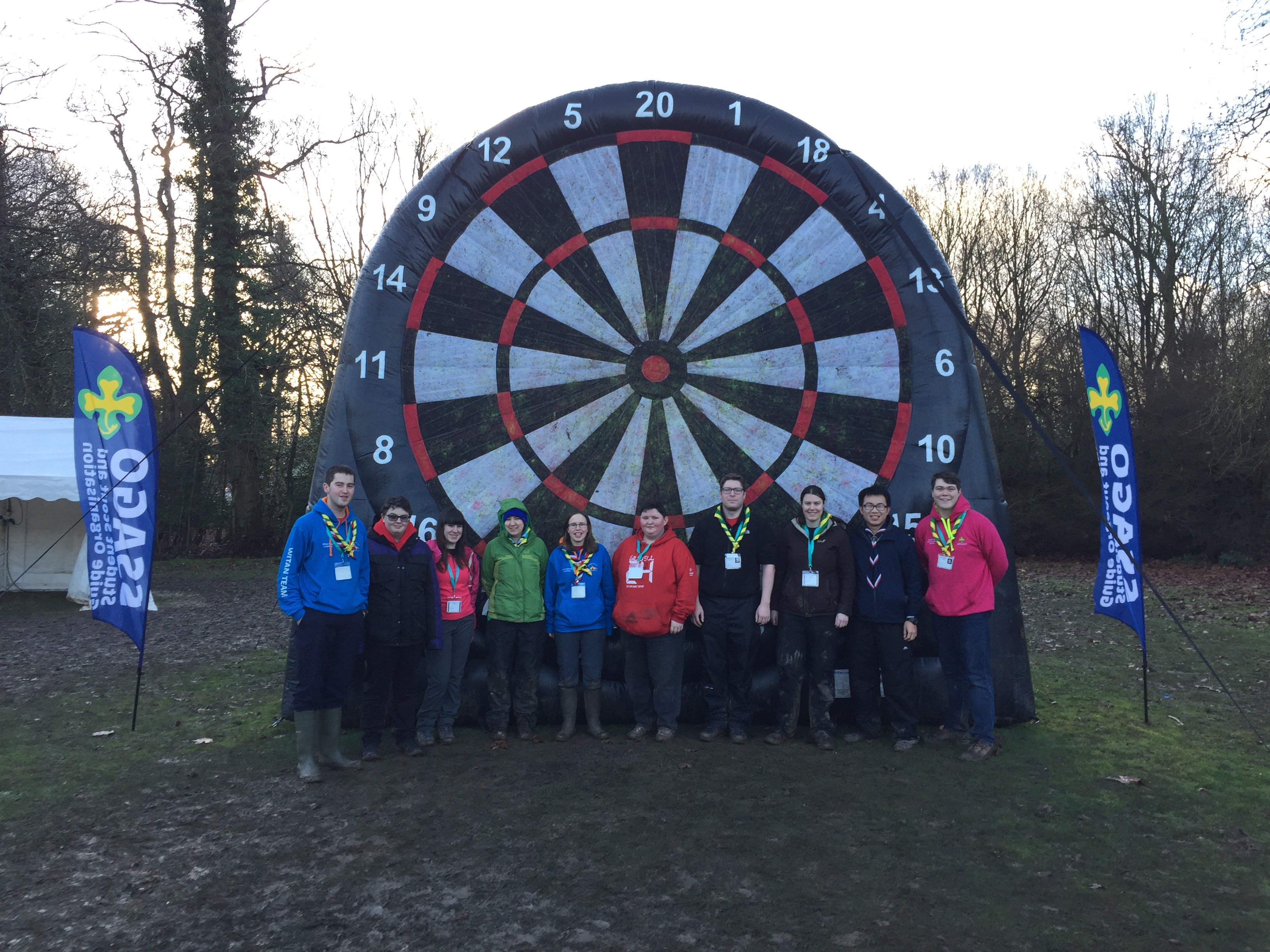 SSAGO members supported Scouting's two extreme winter events by braving the weather at Gilwell and Hawkhirst Wintercamp. In the wet and the wind they helped to run a variety of activities for 1000's of Scouts, Explorers and Guides. In the process becoming the first recipients of the SSAGO Support Team badge!
Gilwell Park
11 SSAGO members travelled from every corner of Great Britain to Gilwell Park, London on Friday night. We got stuck in straight away with manning the first disco in the Lid and as you can expect things got pretty rowdy with that many Scouts around. Luckily for us we had our ear protectors and our high vis so we were nothing to mess with! There was even time for a dance, as who can resist Cotten Eye Joe or the Macarena. Many were smart enough to book on early and get indoor accommodation, but for others it was a cold night in a tent.
Our main activities on Saturday were running the Wintercamp challenge alongside the QSWP. Participants were tasked with 10 challenges, and if they completed all 10 they got a badge. There was a range of challenges, some involving inflatables and others testing scouting skills like knots. Some of the challenges were simple in premise but hard in reality, like a simple "pack a tent back in a tent bag" challenge, that only a few teams succeeded at all weekend. On top of that, every activity was scored, with the team that had the most points overall winning vouchers and goodies. Subsequently there was a big incentive for participants to try their best.
In the evening we got an easy job of watching over the cinemas - it was warm and we could charge our phones so nobody was complaining. There were classics like Toy Story, Frozen and The Incredibles as well as modern remakes like Aladdin. By 11pm when the final films were finishing many Scouts had started to fall asleep!
On Sunday morning the beautiful Gilwell Training Park had turned in to a mud bath, but that didn't stop some participants coming back to finish their challenges. Once it got to 12 we started to pack down, had one last meal (the food was amazing all weekend) and headed home.
Hawkhirst
3 SSAGO members instead decided to brave the weather and head to Hawkhirst, in the Kielder Forest near the Scottish Border. Those that made it on time helped with parking before being sent to the disco, while those that broke down were towed home to attempt the journey again. Once everyone made it we had a nice midnight cup of tea before intending to head to bed, despite the repeated offers two of us still chose to bring tents and brave the elements.
By 3am on Saturday the site had turned into a windy and rainy mess, and SSAGO volunteers still drinking tea were recruited into a whole range of jobs including securing run away mess tents, moving groups who's tents had given way to spotting hazardous trees and making warm drinks for the displaced scouts, explorers and leaders.
Saturday saw a sleep deprived team staffing the ice rink, handing out skates, supervising the skaters and the difficult task of removing the surface water from the outdoor rink, made even harder by the constant rain. In the evening once the rink was closed we managed to get out of the film screen and take part in the pub quiz, joined by some past Newcastle SSAGO members and then get some sleep, for the first time since arriving for 2 volunteers.
On Sunday we were split up with staff supervising the indoor gaming area and also assisting with site clear up and car parking duties. Having our final free meal of the weekend, a lovely roast dinner, we headed back home, ready for next years (hopefully) less windy Wintercamp at Hawkhirst. Hopefully we'll see you there too!
Many thanks to Hakon (Indie), Isobelle (USW), Bethan (USW), Joanne (Glasgow), Chen (Indie), Owen (Bristol), Caitlin (Cambridge), Sam (Portsmouth), Lauren (Glasgow), Ethan (Portsmouth), Tim (Newcastle), Eleanor (Newcastle), Thomas (Indie) and Reuben (Indie).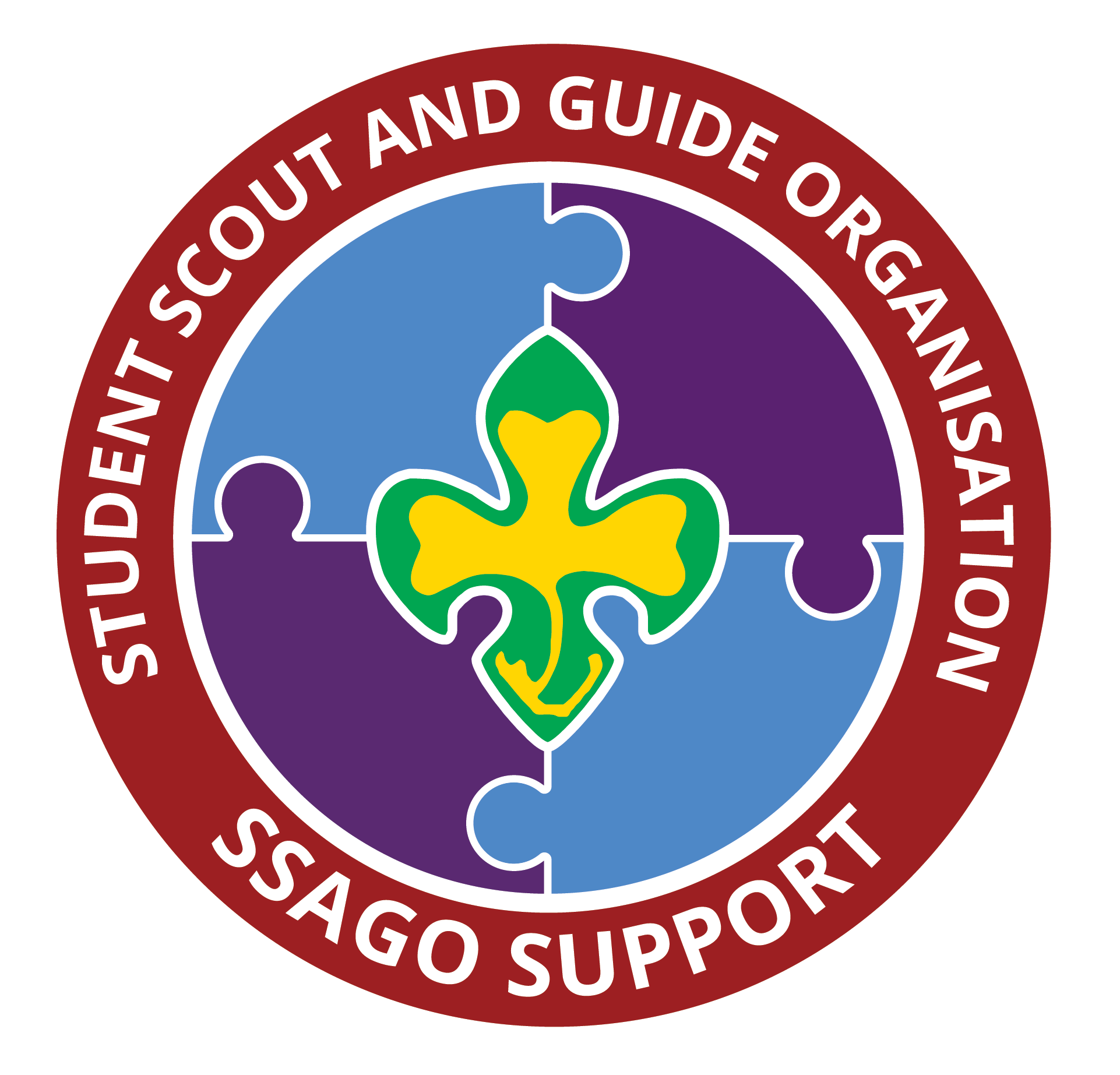 If you want the SSAGO Support badge - keep an eye out for the summer support events which will be advertised over the next few months!