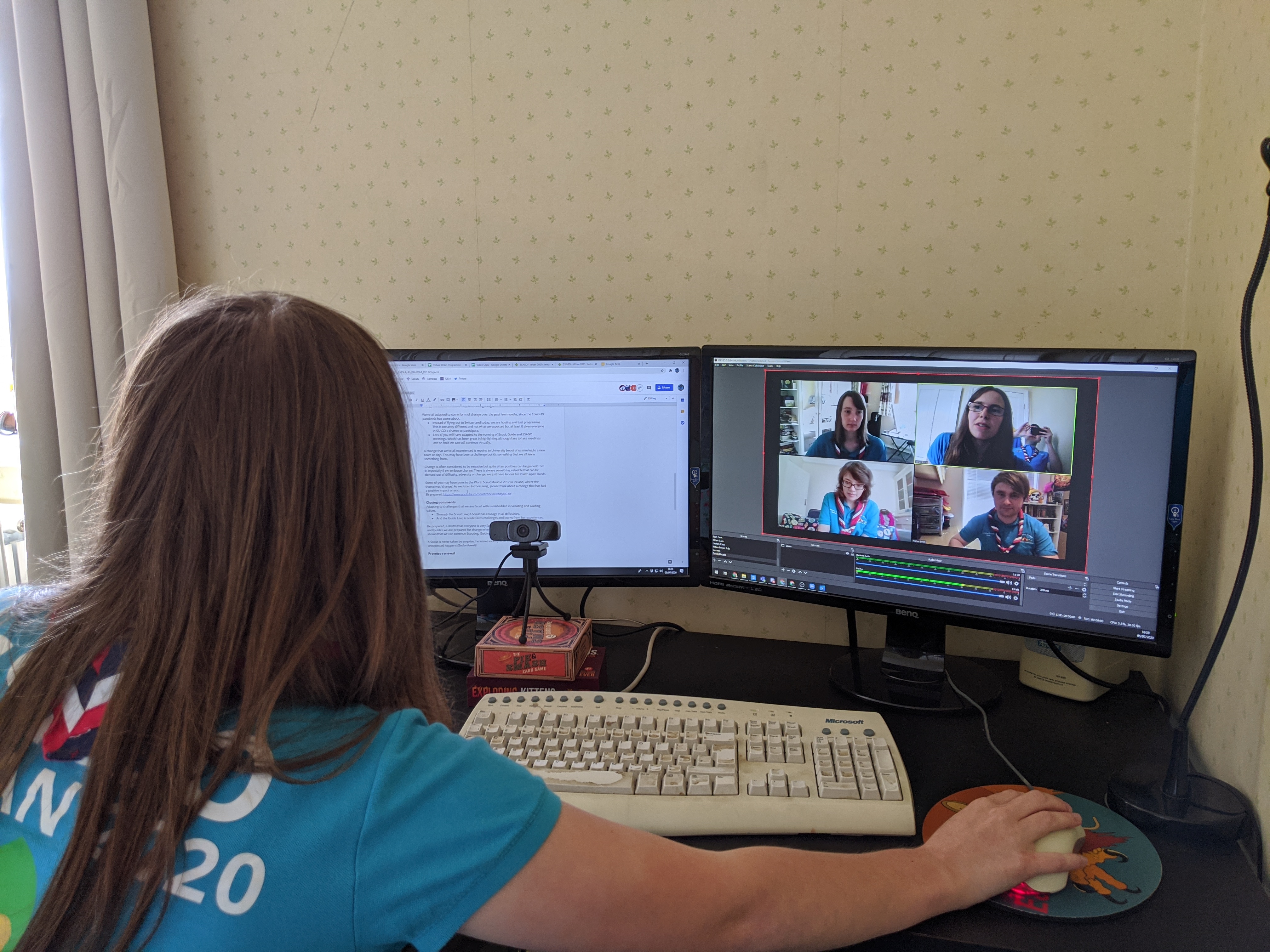 It's been just over a month since Virtual Witan and time to reflect on what we got up to between 8th and 16th July 2020!
After making the difficult decision to postpone Witan to 2021 and alongside other National SSAGO events being cancelled/postponed, we decided to run a programme of virtual events for everyone in SSAGO to enjoy over the original dates of the trip.
We hope that you all enjoyed the virtual programme, with a different virtual event each day, as well as other activities to do during the day. We certainly enjoyed putting it together and are very much looking forward to the trip next summer!
What did we get up to over the week?
The week began on Day 1 with our opening ceremony. Over 50 of you joined us live on the night as we welcomed everyone to Virtual Witan, raised our flag, shared a Scouts Own with Lauren and counted down to bookings opening for Witan 2021.
On Day 2, Josh ran a workshop on the Sustainable Development Goals (SDGs), a UN scheme supported by Scouts and Guides from across the world. We discussed local, national and global issues that affect us all, as well as exploring some of the 17 SDGs, through creating sketches. Towards the end of the session we split off into groups to come up with and develop our own projects to have a lasting impact on our future.
The International Campfire at KISC is a world renowned event and we recreated this on Day 3, with everyone enjoying it from the comforts of their own homes. We enjoyed 13 songs altogether, from 'You'll never go to Heaven' to some more related to Witan such as the 'Swiss Man'. Not only that, we were also lucky enough to have a special appearance from KISC, who lit the fire and performed their staff skit for everyone in SSAGO to enjoy!
A virtual scavenger hunt ran across Day 4 & 5 over the weekend, with challenges released across the weekend. This gave an opportunity to explore KISC as well as the surrounding towns/cities of Thun and Bern, using Google street views, with some additional photo challenges to enjoy. Thanks to all of the teams who took part and well done to the Longboat Crew (Newcastle/Durham) who won.
On Day 5, Ellissa and Josh ended the weekend with a quiz based around the KISC challenge badges, with rounds such as: High Adventure, International Friendship, Eco Award, Swiss Explorer and a Witan General Knowledge round. Thanks to everyone who joined in and congratulations again to Longboat Crew (Newcastle/Durham) who won.
Rachel led a Swiss themed craft evening, via Zoom on Day 6. Others in SSAGO joined to chat away whilst doing some paper quilling to make an Edelweiss flower.
We also ran a virtual Light Trail, which is one of KISC's staple evening activities. We recreated this over Zoom on Day 7, to share thoughts and feelings. We answered questions from, What has been your biggest challenge in Scouting/Guiding to What are you grateful for?
As we approached the end of Virtual Witan we wanted to get everyone excited about the trip next year so Ethan, Josh and Lauren ran a Witan 2021 webinar on Day 8. We ended with a Q&A session to answer any burning questions that you may have - if you have any other queries about the trip please do email us at witan@ssago.org.
To round off Virtual Witan we held our closing ceremony on Day 9 at the end of our online adventure. We showcased the highlights from the week, ran through the winners and awarded Lexie Massie with Freda the Elephant for singing the party rock version of Vogelissi. We also heard from members of SSAGO what their favourite part of virtual Witan was and looked forward to the trip in 2021!
Witan Challenge badge and much more!
Aside from virtual evening events, there were other opportunities to get involved with throughout the week:
NUSSAG defeated LUSSAGO in an online gaddafi plate challenge. Could it really have been anything else other than what SSAGO seems to have fallen in love with over lockdown, Scirbbl.
Staying at KISC provides a great opportunity to swap badges with other Scouts and Guides from across the world, so we recreated this through Discord with other members of SSAGO, both based in the UK and further afield.
Some used this opportunity to camp out in their garden or den.
Moira, Rachel and Lauren provided some Swiss cooking and baking videos for everyone to get a taste of Swiss culture at home.
Larah explained the history of Witan through a fantastic video too!
Thank you to everyone who was involved in Virtual Witan, no matter how big or small.
Missed out on Virtual Witan?
Watch our live streams: https://events.ssago.org/event/240/pages/live-streams
Take part in our challenge badge: https://events.ssago.org/event/240/pages/virtual-witan-challenge
Follow our Swiss cooking and baking videos: https://events.ssago.org/event/240/pages/cooking-baking
Join us for the ultimate SSAGO international adventure in Switzerland in 2021! Book on now at: https://witan.ssago.org/
Witan Team
Josh, Ellissa, Rachel, Ethan & Lauren