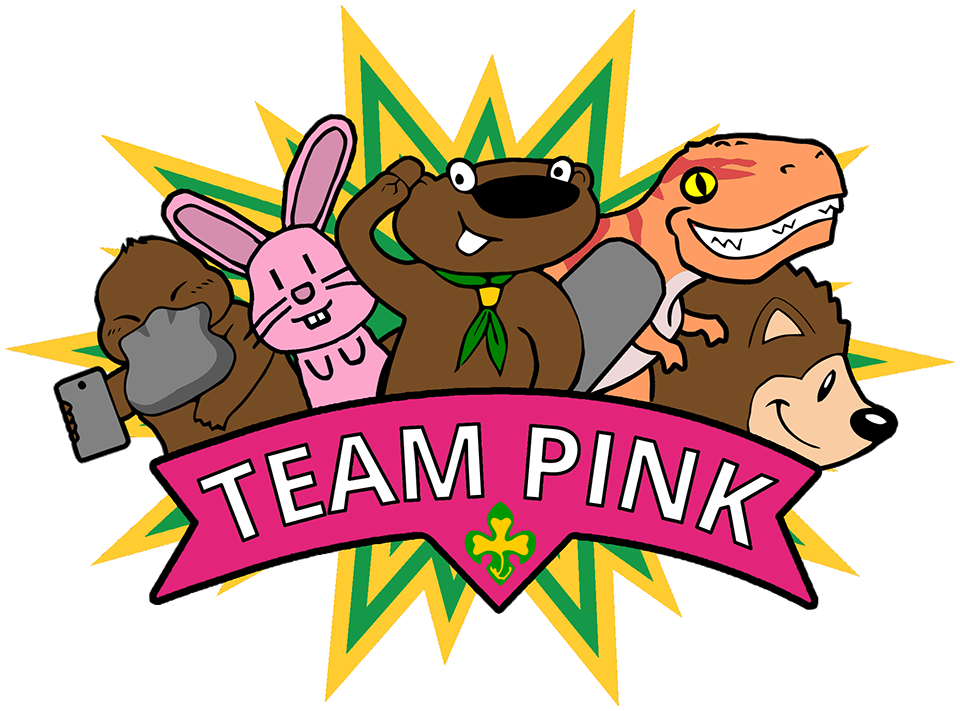 Back
Team Pink are the team of the Executive Officers and Assistants who are responsible for the running and development of the National Student Scout and Guide Organisation.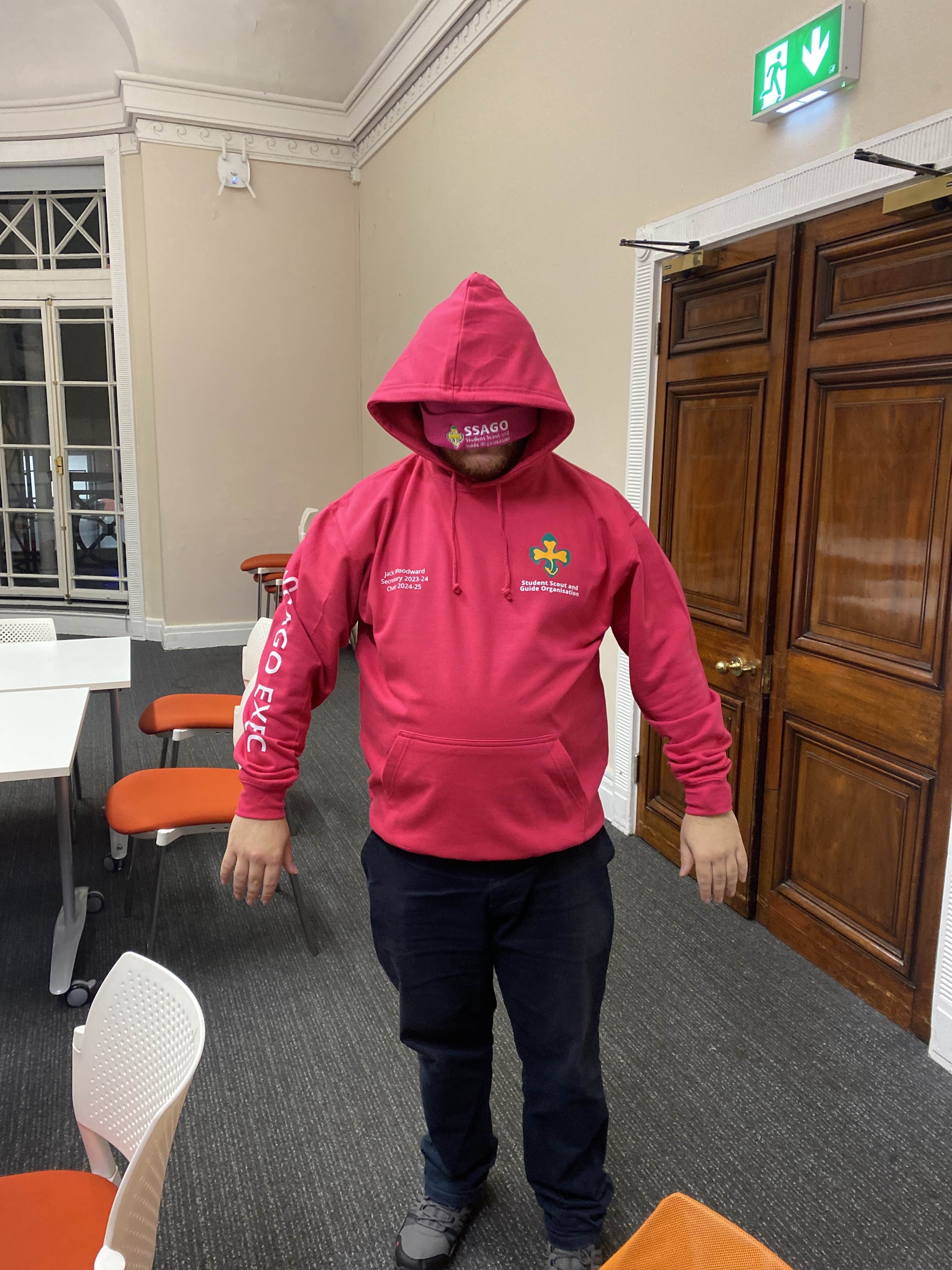 Jack Woodward
Hello SSAGO! I'm Jack, your secretary for 2023/24.
I joined Scouting at 6 years old, and haven't left yet - having worked my way up through Beavers, Cubs, Scouts, Explorers, and being a young leader at Scouts, I'm now a Scout leader, Explorer leader, IST for the World Scout Jamboree, and Network member at uni (where it actually exists), and at home (where it doesn't, really)! Given that background, joining SSAGO once I started university in 2019 seemed inevitable, and only being lightly involved was out of the question.
Since joining SSAGO, I've been a club treasurer and chair in Liverpool, been on two rally committees - co-chairing Rally of Games and generally assisting in everything for CentenaRally, chaired the Policy Fixers Project and helped organise a multitude of smaller regional and national events, including a fresher's camp and the last two IOW Revolution contingents.
In my spare time, I'm also a 4th (masters) year Physics student at the University of Liverpool, and avoiding having to leave SSAGO by starting a PhD in Nuclear Materials Engineering in September.
Secretary
November 2023
Report
Emails: I've been sending and replying to lots of emails, from general queries to the notifications for the many camps and adventurous activities everyone has been getting up to this term!
Events: I've been attending every event I reasonably can (plus a few it I reasonably shouldn't have made it too) and had a great time representing Team Pink! I've also been working on building multiple separate contingents for Revolution next year!
Meetings: I've been organising and minuting lots of Team Pink meetings, plus going to event meetings where I can, and basically doing every other meeting you can think of!
Complaints: Led Team Pink on managing complaints.
WSJ: I represented SSAGO at the WSJ. Despite not being what anyone expected SSAGO (with SAGGA's help) was able to step up and help the UK contingent by organising the SSAGO Olympic Park Challenge!
June 2023
Report
It has been an incredibly busy month and a half since Ball, both personally and with SSAGO stuff, so here's a brief snapshot!
Finishing my degree: I've been through my last exam period, sat my last exams, and officially finished my Master's degree - now on to the PHD in October!
Scouts 14-24 Redesign Project: I've joined the Youth Panel working on the Scouts project to completely redesign the Explorers and Network provision. While theoretically completely separate to my SSAGO role, I've talked about SSAGO enough that I'm being interviewed about SSAGO as part of the research phase!
Emails: I have sent and received lots of emails, including lots of NaN forms and Adventurous Activity Notifications making clear that SSAGO is getting up to plenty now that tern has ended! Also dealing with lots of other things, including complaints and incidents, handovers/getting things set up for Treasurer, Indie rep and Associate rep, helping to co-ordinate WSJ merch, and some general queries that don't quite fit in a category.
Switzerland: I have also visited KISC, met with Oli, both constructively for SSAGO and to have a lot of fun, and completely failed to not do SSAGO stuff while on holiday (mainly because a lot of stuff for reps wasn't done before hand - including this report, which I'm writing from Geneva Airport, before flying to Rally).
Aims
Reps: I'm aiming to make the post event part of ReBaR reps go much more smoothly than the pre-event part, and now that I kind of know how much time it takes, I'm aiming to be much more on time/ahead of schedule for Reps at Oktoberfest!
Scouts: I'm aiming to actually work with scouts at HQ level to build a positive relationship which should benefit SSAGO - I'm hoping involvement in the 14-24 Redesign Project will help with that, and that a SSAGO presence at Gilwell Reunion will also support that effort. I'd also like to start the effort of doing the same with GirlGuiding, but don't currently have as convenient a pathway to pursue that.
SSAGO Policy and Factsheets: This was on my aims in my last report, and I didn't get a chance to even think about it, so I'm carrying it over. There's plenty of issues with out of date factsheets that need updating, and some policies that were originally based on Scouting policies that have since changed, and so could also do with updating.
May 2023
Report
Getting Started: So far I've been to a multitude of handover meetings - online, in person, 1-1 and with all of team pink, a team pink specific training session, checked in with some events, and generally learned the ropes!
Replying to emails, already: I've already started taking over replying to your emails about anything and everything, including NaN forms and the EGM results, (which I didn't make any mistakes at all with. If it looks like Nick is still sending you emails, you might need to clear secretary@ssago.org from your address book!
Actually doing my degree: My Master's Thesis was due in 23:59 the Friday before Ball - it was submitted on time and I still made it to Lincoln in time for Handover and Ball!
Aims
Meeting every event: SSAGO currently has 7 Nationally organised event committees elected and working to create the best events ever! Team Pink have been checking in with these, and getting the newly elected events ready to go over the handover period, but I'd like to have met all of the teams as soon as possible.
Policies and Factsheets: Some of these are woefully out of date, and fixing them is a big job that always flies under the radar, but I'd like to make a start.
Streamlining: As we start a new exec term, I'd like to streamline the way we actually operate as Team Pink, work out and operate a system that works and makes our lives easier, while making sure we don't miss anything.