About Us
We are EGGS serving University of Edinburgh and near by Universities. If this is your area, we are the clubs for you. Opened in 2017 and still finding our feet we welcome everyone to join in the adventures
Our club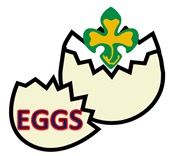 Edinburgh SSAGO was around many years ago but unfortunately disappeared until 2017!!! Now ready to start new adventures for scouts and guides within edinburgh we are exciting about what the next few years, with lots of EGGSciting events in the planning.

We welcome everyone at University in Edinburgh whether you've been a scout or guides for year are are just starting you journey, we can guarantee that we will help you get involved in a wider scout and guide community.
Our social media
Our universities
Our members
We currently have 9 active members.
Our mascots
No current mascot but we are looking into getting one soon!!!!
Are you interested in finding out more?